---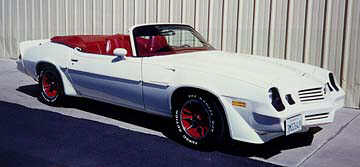 1980 Camaro Z28 Convertible
Custom Built by National Coach Engineering
Owner: Durwood Keller
Baton Rouge, Louisiana USA
My car is a 1980 white Z28 with the red deluxe interior and the production number is # C-23. This car has just over 13K original miles and is in mint condition. It is equipped with the 350 (RPO LM1, 190hp) engine and automatic transmission. Other options include: power windows, power locks, interment wipers, air conditioning, AM/FM Cassette stereo, custom cloth interior, and custom painted aluminum wheels. It was originally owned by a collector who had the car in storage for many years. The car was repainted at some point in time, thus the reason for the absence of the factory Z-28 stripes. I plan to replace them in the near future. The car is currently used as a pleasure vehicle and for attending area car shows.
Click here for Additional Photos of car
---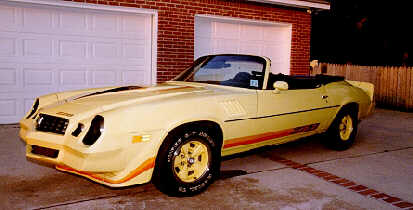 I used to own a second convertible, it was a 1979 yellow Z28 with black interior and the production number is # 37. The car had 140k miles was in good condition for its age and mileage. I purchased purchased the car from the original owner in 1996. The car was used as a daily driver by the original owner for about 10 years until it was retired for use as a weekend cruiser. I have had several offers to purchase the car, as it generated a lot of interest whenever I drive it. After many long months of consideration I finally decided to sell the car. I was contacted through the internet by a Camaro enthusiast from El Paso, Texas, Ken Boughton. In just a few short days we reached an agreement and Ken was on his way to pick up the car on Labor Day weekend, 1998. Upon returning home to El Paso he immediately began to restore the car. Please visit his page for more information.
---
Camaro Links:
---
Additional Information
2nd Generation Convertibles
The convertible top on the '79 appears to have some differences and is much easier to raise and lower than the '80 model. This could also be due to the higher mileage on the car. The '80 model also has some minor leaking problems during a rain at the present time. According to the original owner the '79 was shipped back from Louisiana to Michigan for modifications to correct leaking problems when the car was new. The '80 model does not appear to have these modifications.

According to my information, the company also built Trans-Am Convertibles during this period 79-81 and a total of about 400 to 500 cars were converted by the company, most of which were Z28 models. I have also been told that there were some other companies doing conversions at this time but that National coach the superior conversion package. The cars were converted when new and sold through select new car (GM) dealers.
I would be interested in corresponding with anyone who:
1. Owns, or has owned one of these cars.
2. Can provide any information including production figures or history on these cars.
3. Would be interested in selling any old magazines which may have articles about them.

D. L. Keller


E-Mail: durwood@kellerconsulting.com
---
Back to: >> Automobiles Page << ___ >>Durwood Keller's Home Page <<
---
Copyrightę 1997-2003__ Keller Consulting, LLC Baton Rouge, Louisiana
All Rights Reserved. No part of this website may be reproduced in any form
without written permission of copyright owner. Keller Consulting is not liable
for any errors, omissions, or inaccuracies of data presented.
This website is Hosted by Vener.Net If you are interested in obtaining
your own server to host your website please visit the following page:
VENER.NET Web Servers You can order a web site with your
own name: [www.yourname.com] in as little as a day.

Last revised: January 16, 2003