1979 Camaro Z28 Convertible
1980 Camaro Z28 Convertible
These cars are vary rare since only a few hundred were built during
these model years. Only a hand full are known to be left on the road
many of which are owned by collectors.

Please visit my CAMARO PAGE for more
information about these cars.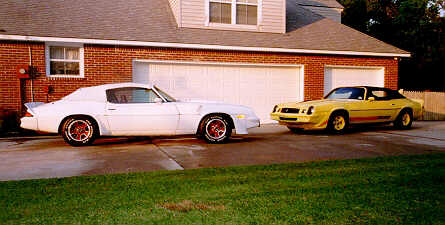 1980 Z28 (white) & 1979 Z28 (yellow)
Camaro Convertibles
---
---
---
---
Copyrightę 1997-2003__ Keller Consulting, LLC Baton Rouge, Louisiana
All Rights Reserved. No part of this website may be reproduced in any form
without written permission of copyright owner. Keller Consulting is not liable
for any errors, omissions, or inaccuracies of data presented.
This website is Hosted by Vener.Net If you are interested in obtaining
your own server to host your website please visit the following page:
VENER.NET Web Servers You can order a web site with your
own name: [www.yourname.com] in as little as a day.
Updated: June 04, 1999