Kenneth Boughton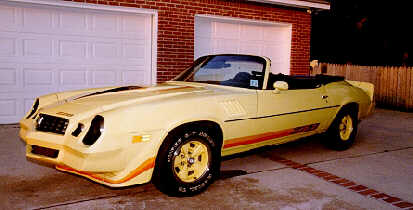 Ken's Camaro Z28 before restoration Sept. 1998
1979 Camaro Z28 Convertible
Custom Built by National Coach Engineering
Owner: Kenneth Boughton
Bastrop, Texas
E-Mail: 79camaro@onr.com
<< New E-mail as of 5/99 >>
Ken's Camaro Z28 after restoration November, 1998
The following work has been done to date:
ENGINE: Includes a remanufactured and blueprinted 350 engine, Edelbrock
Performer Intake, new Quadrajet w/ electric choke, all new incidentals, i.e..
Alternator, P/S Pump, Water Pump, etc.... Rebuilt T-350 Transmission and drive train.
BODY: New paint, (GM53"Competition Yellow"), replacement trunk lid, new GM
door hinges, new stripes, GM replacement taillights, parking light assemblies,
and chrome bezels.. Upgraded 1981 Z/28 Grille and N90 Option Z/28 Aluminum rims.
INTERIOR: Factory replacement Carpet and re-upholstered front seats...
New convertible top is scheduled for mid December '98.
---
---
Copyrightę 1997-2003__ Keller Consulting, LLC Baton Rouge, Louisiana
All Rights Reserved. No part of this website may be reproduced in any form
without written permission of copyright owner. Keller Consulting is not liable
for any errors, omissions, or inaccuracies of data presented.
This website is Hosted by Vener.Net If you are interested in obtaining
your own server to host your website please visit the following page:
VENER.NET Web Servers You can order a web site with your
own name: [www.yourname.com] in as little as a day.
Last revised: January 16, 2003