G Scale Trains
I have several G-Scale train sets. One set is the Kalamazoo set manufactured by the Kalanazoo train company which is now out of business. The Kalamazoo Train Company was taken over by Hartland Locomotive Works and they now producing the line of trains formally built by Kalamazoo. I have the Denver & Rio Grande set with the sound works package. The sound works package reproduces the actual train sound effects.
I also have several of the Bachmann G-Scale train sets. Below are some illustrations of the Bachmann sets some of which I own. The Bachmann sets are very affordable and make a great entry level into the G Scale trains.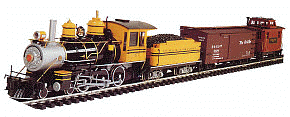 "Silverton Flyer" Train Set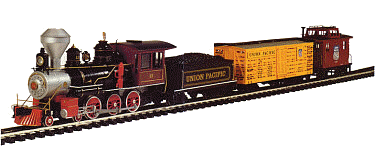 "Golden Spike" Train Set

"Liberty Bell Limited" Train Set
---
TRAIN LINKS:
G-Scale Trains by Donald Burger of Houston
I will post additional information regarding my collection of G Scale trains in the coming months.
Return to Durwood Keller's Home Page
---
Copyrightę 1997-2003__ Keller Consulting, LLC Baton Rouge, Louisiana
All Rights Reserved. No part of this website may be reproduced in any form
without written permission of copyright owner. Keller Consulting is not liable
for any errors, omissions, or inaccuracies of data presented.
This website is Hosted by Vener.Net If you are interested in obtaining
your own server to host your website please visit the following page:
VENER.NET Web Servers You can order a web site with your
own name: [www.yourname.com] in as little as a day.
Page Last Updated: 01/24/03