USS Louisiana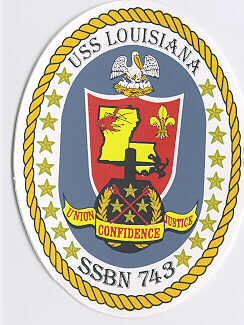 USS LOUISIANA (SSBN 743)

The Trident Submarine USS LOUISIANA was built by the Electric Boat Division of
General Dynamics at New London, Connecticut.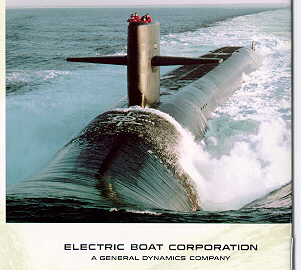 USS LOUISIANA was officially christened with the name LOUISIANA on July 27, 1996, at
New London, Connecticut. The ship's sponsor is New Orleans native Patricia O'Keefe.

USS LOUISIANA was commissioned on September 6, 1997,
at the Trident Naval Base at Kings Bay, Georgia.
Our state's namesake will begin operations in the Atlantic Ocean
and beyond and she will be homeported at Kings Bay.
Commissioning Committee
USS LOUISIANA
Post Office Box 14805
Baton Rouge, LA 70898
Commissioning Committee E-Mail
In care of: Mike Futrell
---
HISTORY OF SHIPS NAMED LOUISIANA

The first LOUISIANA, a sloop commissioned in 1812, was the heaviest and most powerfully armed ship engaged in the battle of New Orleans. She pounded the British flank and was instrumental in the American victory, earning tribute from General Andrew Jackson. She was decommissioned in 1821.

The second LOUISIANA, a sidewheel steamer commissioned in 1862, blockaded Southern ports on the Atlantic coast and conducted raids against Confederate naval vessels and ports. She was sunk on December 24, 1864, during an attempt to breach the walls of Fort Fisher, in Wilmington, N.C..

The third LOUISIANA, a battleship, was commissioned in 1906. One of the most advanced warships of her day, she hosted President Theodore Roosevelt's trip to the Panama Canal. In 1907 she made a voyage around the world as part of the "Great White Fleet." The voyage was acclaimed for the honor it brought to the United States. She served during World War I and was decommissioned in 1920.

USS LOUISIANA Trident Sub will be the fourth U.S. Navy ship to bear the name Louisiana and the last Trident submarine built.

---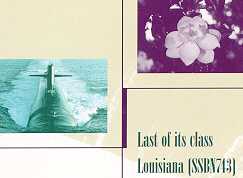 Additional Facts about the USS LOUISIANA
USS LOUISIANA will be the eighteenth Trident submarine commissioned and the fourth U.S. Navy ship to bear the name Louisiana.

Trident submarines are the largest and most powerful undersea warships ever built in the free world. At 560 feet and 18,750 tons, they are the nation's first line of defense into the next century. Each is powered by a nuclear reactor and carries 24 ballistic missiles. Trident submarines are noted for their long-range missile capability, extremely quit operations and high at-sea to in-port ratio.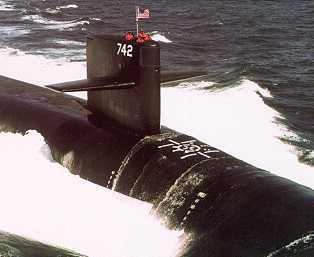 USS WYOMING (SSBN742)
USS LOUISIANA will have an advanced sonar system, comparable to that developed for the U.S. Navy's newest attack submarines, and capable of providing long-range detection and a more effective tracking technique.
Trident submarines are manned by two alternating crews, one called the Gold crew and one of the Blue crew. Each crew is composed of about 165 officers and men. While one crew trains ashore, the alternate crew is at sea. After approximately 100 days the crews exchange places, thus maximizing the submarine's at sea time.

USS WYOMING (SSBN742)
<<< Click Below >>>
Please visit our main site for the USS Louisiana at Louisiana 2000
for more information and additional pictures of the submarine
including a link to: The Official US Navy Web Site of the USS Louisiana
---
Copyrightę 1997-2003__ Keller Consulting, LLC Baton Rouge, Louisiana
All Rights Reserved. No part of this website may be reproduced in any form
without written permission of copyright owner. Keller Consulting is not liable
for any errors, omissions, or inaccuracies of data presented.
This website is Hosted by Vener.Net If you are interested in obtaining
your own server to host your website please visit the following page:
VENER.NET Web Servers You can order a web site with your
own name: [www.yourname.com] in as little as a day.
All information in this site was provided by the Commissioning Committee
for the USS LOUISIANA and is used with their permission. The information
in this website is provided as a public service. _Please report and errors or
problems to the WebMaster.
This page is Maintained by Keller Consulting, LLC

Last Modified on: 02 August 1999